President Trump fired back at British Prime Minister Theresa May after she criticized him for retweeting anti-Muslim posts.
"Theresa @theresamay, don't focus on me, focus on the destructive Radical Islamic Terrorism that is taking place within the United Kingdom. We are doing just fine!" Trump initially tweeted Wednesday evening.
His first fiery tweet tagged the wrong Twitter handle. He later retweeted his message with the intended handle for the British prime minister.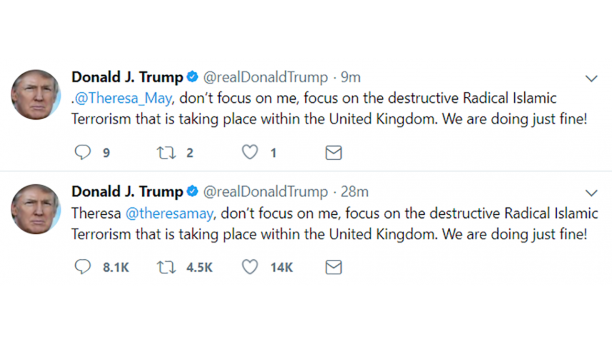 It came hours after the prime minister's office condemned Trump for sharing a string of inflammatory videos from a fringe British political group purporting to show violence being committed by Muslims.
"It is wrong for the president to have done this," a spokesman for May said in a statement.
"Britain First seeks to divide communities by their use of hateful narratives that peddle lies and stoke tensions. They cause anxiety to law-abiding people. British people overwhelmingly reject the prejudiced rhetoric of the far right which is the antithesis of the values this country represents, decency, tolerance and respect," the spokesman said.
Despite criticism over the retweets, White House Press Secretary Sarah Sanders said Trump was simply promoting border security and suggested that verifying the content was not a top concern.
The Associated Press contributed to this report.